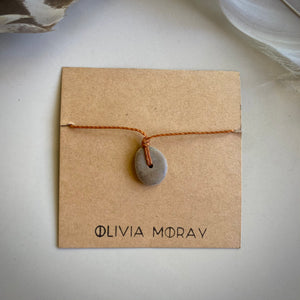 a single river rock made into a bead, hanging from a thin piece of waxed cotton cord. 
the necklace is adjustable by slip knot and can be worn short or long. 
the grounded energy provided by these smooth stones helps to bring one peace, prosperity and abundance. their close connection to water, which is associated with wealth, can bring about many positive changes in one's life. they are an ideal example of what can happen when water and land come together; two elements collaborating to create something beautiful, natural and auspicious. 
hand made in sebastopol, california.